Disclosure: This post has been compensated by Collective Bias, Inc. and AcneFree. All opinions are mine alone. #AcneFreeSummer #AcneFreeLife #CollectiveBias
As I'm sure you know by now, I definitely struggle with acne-prone skin, especially when it comes to shifts in my hormone and/or stress levels. It almost feels like my skin will get used to whatever was keeping pimples and zits at bay and I'll need to get on to the next thing! Luckily, at my local Walgreens, they have a full array of AcneFree products. Like, a FULL array. I can't see my skin getting used to that many new options and I am so excited to play around with all this brand has to offer!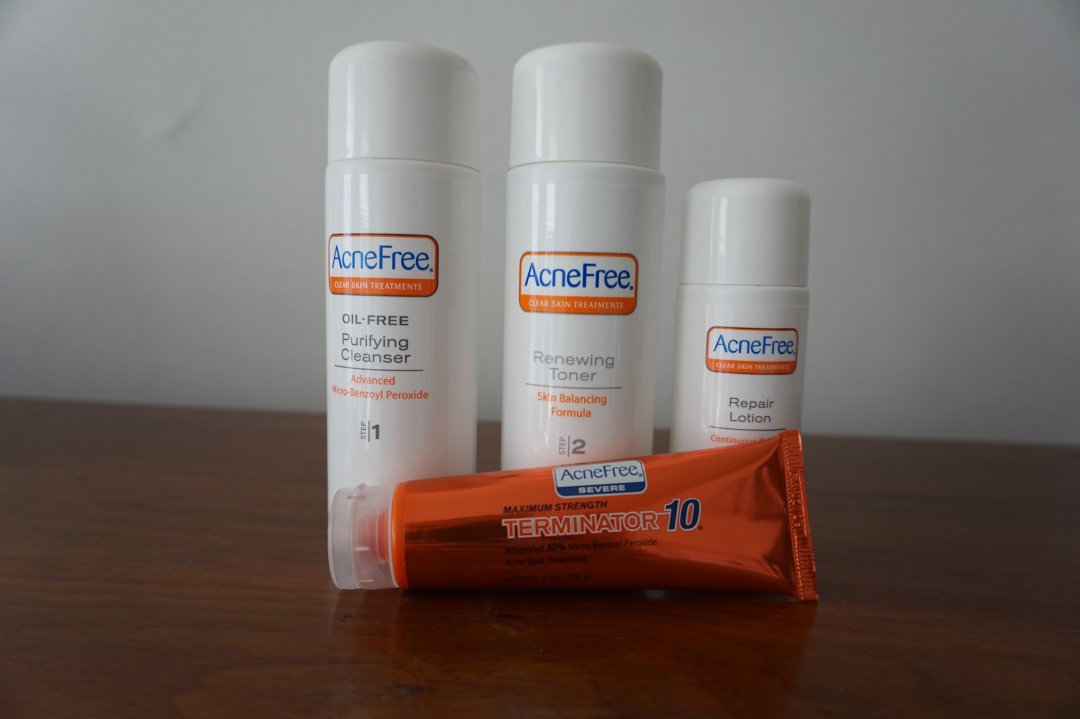 If you want to try AcneFree out along with me, you can hover over the above image to shop for their products online!
Back to school season is right around the corner, which means back to stress amiright?! In addition to the BTS nerves nipping at my heels a little early and messing with my clear skin, I've just started my first full-time to which I commute on a bike. That's a lot of changes! In order to put my best face forward, I picked this 24 hour Acne Clearing System and Maximum Strength Terminator 10 spot treatment up. Luckily for me, the kit can start to clear up breakouts in as little as three days- something I was definitely happy about as I walked through the doors to my dream job with clear skin and a HUGE smile!
"But how does it all work?," you may be asking. Let's get into it!
First, the kit! The AcneFree 24 Hour Acne Clearing System is an easy-peasy, daily skincare regimen with three steps: an Oil-Free Purifying Cleanser, a Renewing Toner, and a Repair Toner. AcneFree is the only brand that makes acne clearing systems formulated with Advanced Micro-Benzoyl Peroxide, which is designed to work faster and dig deeper into pores. Something I love about this kit is that it specifically notes that it can be used on the chest and back to help fight acne all over!
Step 1 is obviously the Oil-Free Purifying Cleanser with Micro-Benzoyl Peroxide! I apply and massage a small amount on my damp face with my hands, twice a day. This awesomely sudsy cleanser is both gentle and intense in its removal of pore-clogging dirt, excess oil, and acne bacteria! There's also the acne-fighting sidekick of Benzoyl peroxide (2.5%), which gets deep down into pores to fight and prevent breakouts, even after rinsing.
Next up is Step 2 using the Renewing Toner! This bad boy has skin enriching vitamins, Witch Hazel, Chamomile, and Aloe to help refine pores, help with controlling oil, AND balance skintone! What a multi-tasker! I apply this using a cotton pad, and honestly my skin feels so refreshed and soft afterwards.
The third and final step is the lovely Repair Lotion! This contains the superstar Micro-Benzoyl Peroxide, which offers 24 hour continuous clearing! It's easily absorbed into pores, fighting acne bacteria and helping to stop new breakouts before they even think about starting. This is also applied with clean hands and smooths right in!
So easy, right? Got to love a well-outlined plan! I really like that the steps are defined like this- it makes it so easy to give into muscle memory as I wash my face as my morning coffee percolates. Plus, I can save SO much time every morning as this kit makes quick work of my breakouts- no painstaking cover-up of blemishes needed!
Sometimes even the best of routines needs a little extra firepower! That's where the Maximum Strength Terminator 10 comes in for me. This strongest spot-treatment available without a prescription works to eliminate 99% of acne-causing bacteria right where it's most needed- can you say whaaaaat? But don't worry, all that strength is tempered by the added Chamomile, Ginger, and Sea Whip Extracts which soothe skin and reduce redness and irritation.
And what can I say? Happy skin, happy me! All these changes coming my way are so much easier to face (and rock!) when I can put my best and clearest face forward.
Want to join in on the clear skin? Find out how below!
Participate in the #AcneFreeLife Sweepstakes – See Visible Results in As Few As 3 Days!
AcneFree is launching a 4-week sweepstakes on August 14

th

, 2017. 3 Grand Prize Winners will win $1,000 spending money and AcneFree Supplies for a year. Additionally, AcneFree will give away 10 AcneFree® 24 Hour Acne Clearing Systems every week for 4 weeks.
No Purchase Necessary. To enter, simply enter your name and email address at http://cbi.as/9rasp Use the form to follow on Instagram and Facebook to earn extra entries.
I hope you're having an amazing AcneFree summer!